Looking forward to your visit!
August 19th (Sat) ~ Open 17:30 - 22:00
Check out the tasty samples from our Menu.
Before you make a reservation
Excellent. Awaiting a Michelin Star. - We just left this lovely little restaurant, a seven minute walk from the very center of old town Bratislava.

The menu is somewhat limited - with four or five... read more starters, and five or six entrées - but to someone who is unfamiliar with traditional Slovakian cuisine, I suspect this would serve as a completely adequate introduction.

We were initially seated in one of the back rooms, a small space with a low arching ceiling. But the acoustics did not let themselves to a quiet dinner (particularly with some very loud patrons sharing the room), so we moved to the front room, which Appears to resemble an old farmhouse dining area. Service was attentive, but relaxed. We started off with the potato dumplings with sheep cheese and bacon. This was very good but the entrées (the chef's special venison loin and the venison goulash) were terrific.

Only three white and three red wines were available by the glass but the selections were good.

We had a very nice and very tasty meal. I would definitely recommend venturing a short way from the crowds to give this restaurant a try.

DrGeis


13. 09. 2023

Slovakian cuisine - My partner and I went to Modra Hveizda after looking up reviews for Slovakian cuisine all I can say is we were not disappointed beautiful restaurant with very attentive staff.... read more We had deer loin and wild boar it was all cooked to perfection and was so nice we can't stop talking about our food experience if we had been able to make it another night we would have gone again. It's a hidden gem but so worth a visit it certainly made our trip.

Trip27746663830


05. 09. 2023

Amazing regional cuisine - My wife and I are visiting Bratislava for three nights and were looking for a dining experience that would highlight regional cuisine and give us a window into old world... read more Slovak tradition. On a walk up to the castle we noticed Modrá Hviezda on our cobblestone walk. Making reservations for a dinner that evening we returned for a even more delightful evening than expected. The food, the service, the atmosphere were exceptional. The owner warm and engaging with wonderful recommendations on local cuisine and the contact of the location and it's history. Local wines, during dinner, cognac, and coffee, completed a memorable dining experience. It's a "don't miss this" if you come to visit Bratislava.

L4369ORbobr


30. 08. 2023
Beblavého 14, 81101 Bratislava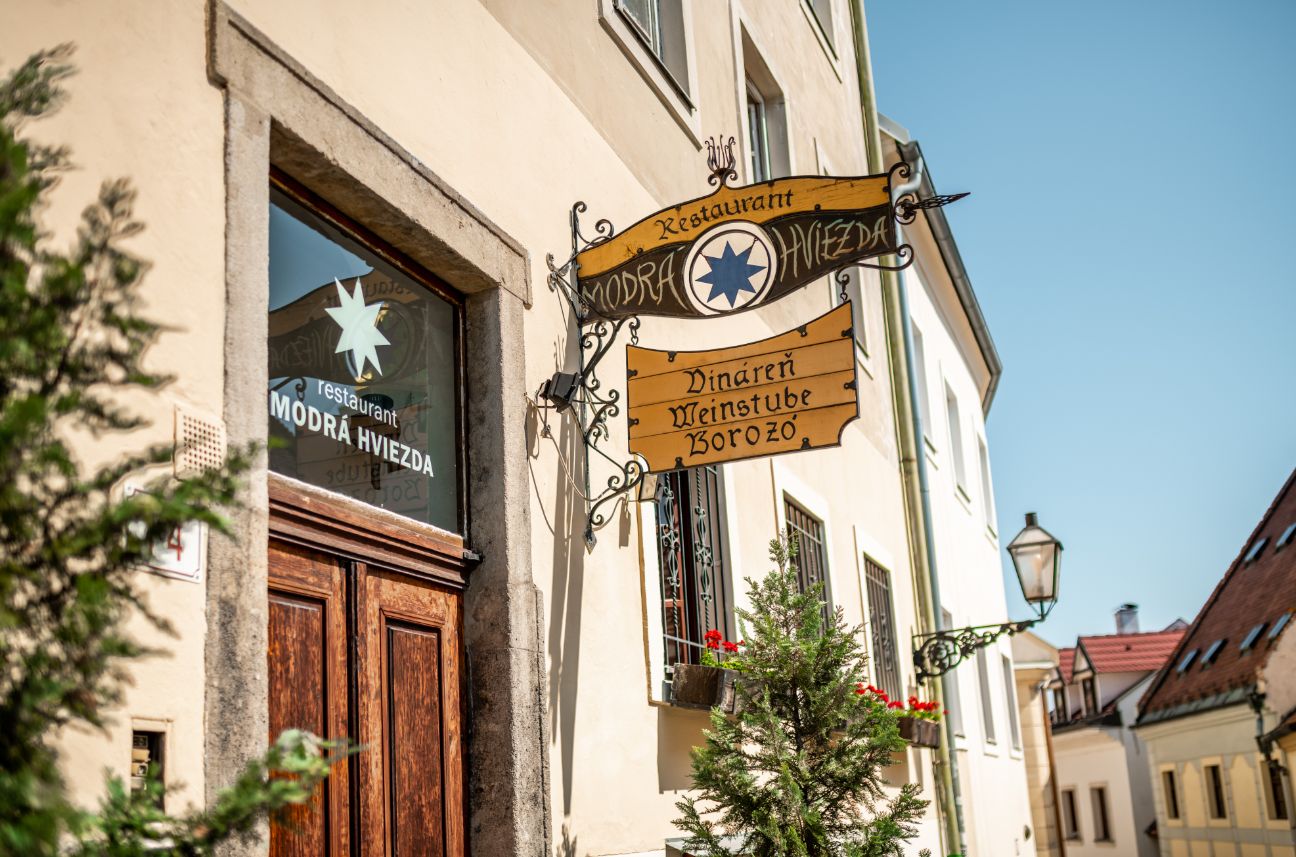 To reserve a table, use our reservation form.
In case of any questions, contact us by phone or email.
If you are interested in booking our restaurant for a larger group of guests outside of the stated opening hours, please contact us.
restauracia.modrahviezda@gmail.com